A STUDENT VISA is not required to take a short-term language course or training in Indonesia. Indonesia only issues STUDENT VISAS to foreigners registered as full-time students at Indonesian universities.
Students enrolled in short-term educational programs (less than 60 days) such as Indonesian language course in Wisma Bahasa are welcome to study under a 30-DAY VISA-ON-ARRIVAL (VOA) or 60-DAY TOURIST VISA. For visits of 30 days or less, foreigners DO NOT need to make advance arrangements to visit Indonesia. Upon arrival at Indonesian airport or seaport (or another official gateway in Indonesia), a 30-day VISA-ON-ARRIVAL (VOA) is available to many countries (see the list below). Then, simply follow the signs to the VISA DESK, where your 30-Day VISA-ON-ARRIVAL will be issued. At the VISA DESK, you will be asked:
A PASSPORT; The Passport must be valid for a minimum of 6 months from your date of arrival in Indonesia. The Passport must contain at least one blank visa page.
A RETURN (OR ONWARD) AIRLINE TICKET; with a departure date within 30 days of your arrival in Indonesia.
THE FEE FOR THE VOA; Visa Approval Telex to Indonesia Embassy/Consulates Rp 100.000 and Visit Visa On Arrival USD 35.00. **Check here for the updated information.
A 30-Day VISA-ON-ARRIVAL (VOA) is available to these foreigners countries: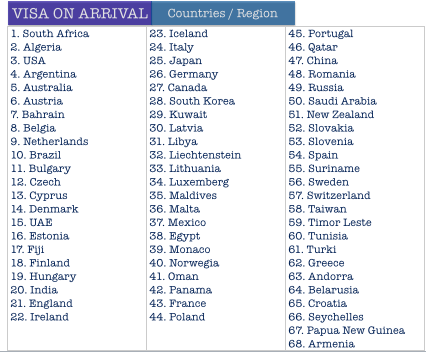 And a special 30-DAY NON-VISA SHORT-TERM VISIT is granted to citizens of the following 15 countries (can be used for Benchmarking, Short course, Short training):

1. Thailand
2. Malaysia
3. Singapore
4. Brunei Darussalam
5. Philippines
6. Vietnam
7. Myanmar
8. Cambodia
9. Laos
10. Hong Kong SAR
11. Macao SAR
12. Chili
13. Morocco
14. Peru
15. Ecuador
If your country DOES NOT appear on either of the above lists, please visit an Indonesian Embassy in your country before departing for Indonesia (in order to arrange for an Entry Visa).
List of Airports and Seaports that have facilities to issue VISA ON ARRIVAL
A. AIRPORTS
1. Sultan Iskandar Muda, Banda Aceh, Nanggroe Aceh Darussalam;
2. Sultan Syarif Kasim II, Pekanbaru, Riau;
3. Hang Nadim, Batam, Kepulauan Riau;
4. Minangkabau, Padang, Sumatera Barat;
5. Sultan Mahmud Badaruddin II, Palembang, Sumatera Selatan;
6. Soekamo-Hatta, Jakarta, DKI Jakarta;
7. Halim Perdana Kusuma, Jakarta, DKI Jakarta;
8. Husein Sastranegara, Bandung, Jawa Barat;
9. Adi Sucipto, Yogyakarta, Daerah Istimewa Yogyakarta;
10. Ahmad Yani, Semarang, Jawa Tengah;
11. Adi Sumarmo, Surakarta, Jawa Tengah;
12. Juanda, Surabaya, Jawa Timur;
13. Supadio, Pontianak, Kalimantan Barat;
14. Sepinggan, Balikpapan, Kalimantan Timur;
15. Sam Ratulangi, Manado, Sulawesi Utara;
16. Hasanudin, Makassar, Sulawesi Selatan;
17. Ngurah Rai, Denpasar, Bali;
18. El Tari, Kupang, Nusa Tenggara Timur;
19. Kualanamu, Medan, Sumatera Utara; and
20. Lombok, Lombok Tengah, Nusa Tenggara Barat.
B. SEAPORTS 1. Sekupang; Citra Tritunas (Harbour Bay); Nongsa; Marina Teluk Senimba, and Batam Centre, in Batam, Kepulauan Riau; 2. Bandar Bintan Telani Lagoi and Bandar Sri Udana Lobam, in Tanjung Uban, Kepulauan Riau; 3. Sri Bintan Pura, Tanjung Pinang, Kepulauan Riau; 4. Tanjung Balai Karimun, Tanjung Balai Karimun, Kepulauan Riau; 5. Belawan, Belawan, Sumatera Utara; 6. Sibolga, Sibolga, Sumatera Utara; 7. Yos Sudarso, Dumai, Riau; 8. Teluk Bayur, Padang, Sumatera Barat; 9. Tanjung Priok, Jakarta, DKI Jakarta; 10. Tanjung Mas, Semarang, Jawa Tengah; 11. Padang Bai, Karangasem, Bali; 12. Benoa, Badung, Bali; 13. Bitung, Bitung, Sulawesi Utara; 14. Soekarno-Hatta, Makassar, Sulawesi Selatan; 15. Pare-Pare, Pare-Pare, Sulawesi Selatan; 16. Maumere, Maumere, Nusa Tenggara Timur; 17. Tenau, Kupang, Nusa Tenggara Timur; 18. Jayapura, Jayapura, Papua; and 19. Sabang, Sabang, Aceh.
C. OTHER PLACE (LAND BORDER)
1. Etikong, Etikong;
2. Metamauk, Atambua;
3. Mota'ain, Atambua;
4. Napan, Atambua;
5. Nanga Badaum Sanggau;
6. Skouw, Jayapura;
7. Aruk, Sambas
EXTENDING YOUR STAY (BEYOND THE 30 DAYS OF YOUR VISA ON ARRIVAL / VOA)
Once in Indonesia, if you would like to extend your stay:
You may renew/extend your VOA's for an additional 30 days without leaving Indonesia. The procedure and requirements: just go to the Immigration Office, bring an original passport, a copy your passport and visa, a copy of your return ticket, fill in the form (please ask immigration officers to get the form; it's free of charge). And the visa extension fee is Rp 355.000.
Note: To extend for VOA for an additional 30 days (without leaving Indonesia), simply speak with the Wisma Bahasa staff when you are in Wisma Bahasa, and you will be provided the necessary guidance.
The above information is provided as a service for prospective Wisma Bahasa students. The information, however, is based solely on Wisma Bahasa's understandings and interpretations of Indonesia's entry requirements. For more details, please contact an Indonesian Embassy or Consulate in your country for current and accurate information regarding Indonesia's entry requirements. (source: from many sources)