"If you talk to a man in a language he understands, that goes to his head. If you talk to him in his own language, that goes to his heart." Nelson Mandela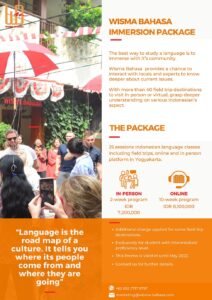 The best way to study a language is to immerse with it's community. Wisma Bahasa understand the need of our students and offer Immersion Package which provide a chance to interact with local and know deeper about current issue by discussing the topic with the expert.
With more than 40 field trip destinations which you could visit in person or virtual, you will get deeper understanding on many of Indonesian's aspect.
The Immersion package consists of 25 sessions Indonesian language including field trips The detail of the program is as follows:
Offer in online and in person platform (currently available in Yogya)
Free assessment and final test
Free lesson material and supplementary materials (if needed)
Student report
Let's understand Indonesian deeper and better to easier your life and job in the country.
Only Rp. 8,100,000 for online and Rp. 7,200,000 for in person
For further information and term and condition please visit our Website www.wisma-bahasa.com or contact our Marketing team at marketing@wisma-bahasa.com and Ph./WA at 62-852 2717 9797
Term and conditioned
The 25 sessions should be use within 2 weeks for the in person class in Yogya and maximum 10 weeks for online
Exclude registration fee Rp. 300,000 for new student
Payment for online classes should be in advance for personal account student
Additional charge Rp. 300,000 (In person) and Rp. 337,500(online) for the following field trip destinations:

Golkar
Dian Interfidei
Rifka Annisa
PSLH UGM (Centre of Environmental Studies)
PSKP UGM (Centre of Security and Peace Studies)

Only for student with Intermediate proficiency level
Valid on April and May 2022
Please register HERE!