In various parts of Indonesia, Iftar is one of the most eagerly awaited moments for various reasons. Starting from family gathering, Iftar with friends to takjil hunting (snacks for breaking the fast). Often times, people who are not muslim also do this. ​Ngabuburit​​ (waiting for Maghrib prayer to break the fast) with family or friends. Check out some references for Iftar below!
Kolak pisang (Banana compote)
A bowl of refreshing banana compote for breaking the fast made from boiled bananas with coconut milk and palm sugar. Sometimes you can find compote made from sweet potatoes too!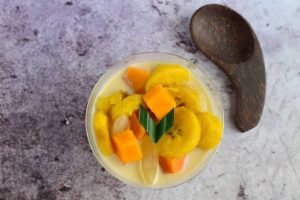 This culinary delights from Makassar can be easily found during Ramadan. The sweet taste combined with bananas wrapped in flour dough and marrow syrup or porridge will make your Iftar even more enjoyable.
Yogyakarta is excellent in presenting flavourful Iftar. One of the traditional snacks during Ramadan is the kicak. This snack is made from cassava, ​but more often processed from sticky rice mixed with grated coconut, sugar, salt, vanilla, small pieces of jackfruit, and pandan leaves. Of course the banana leaf wrap that covers this snack not only pampers your tongue, but also your eyes.
The perfect combination of porridge (rice flour and coconut milk), sweet potato compote, banana to black sticky rice will make your Iftar even more delicious. The snack from Minangkabau is taken from the Dutch language "​kampioen "​ which means a winner because the creator won a cooking contest in the 60's.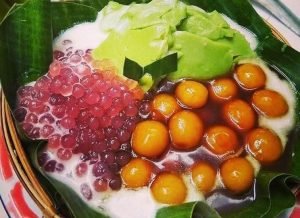 This brown ball-shaped takjil is a typical food for Iftar in Maluku. The sweet taste and chewy texture of Asida is made from the mixture of flour, water with sprinkles of sugar, cinnamon powder, cardamom, and melted butter.
Wow, these mouth-watering Iftar menus will definitely make you hungry, right? Try different Nusantara flavours to break your fast today!
Di berbagai belahan Indonesia, berbuka puasa adalah salah satu momen yang ditunggu-tunggu banyak kalangan dengan berbagai alasan. Mulai dari berkumpul bersama keluarga, berbuka puasa bersama teman-teman sampai berburu takjil (makanan ringan untuk berbuka puasa). Tak jarang baik orang-orang yang beragama Islam atau tidak melakukan ngabuburit (menunggu waktu Magrib untuk berbuka puasa) bersama keluarga atau teman-temannya. Yuk, cek daftar makanan di bawah ini untuk referensi berbuka puasa kalian!
Kolak pisang
Semangkuk kolak pisang yang menyegarkan untuk berbuka puasa terbuat dari pisang direbus dengan santan dan gula aren. Kadang-kadang kita dapat menemukan kolak pisang yang terbuat dari ubi juga, loh!
Es pisang ijo
Salah satu kuliner asal Makassar ini dapat ditemukan dengan mudah ketika Ramadan. Rasa yang manis dan perpaduan dari pisang yang dibalut adonan tepung dan juga sirup atau bubur sumsum akan membuat buka puasa kalian menjadi lebih nikmat.
Kicak
Yogyakarta juga tak kalah dalam menyajikan cita rasa untuk berbuka puasa. Salah satu jajanan tradisional selama bulan Ramadan adalah kicak yang. Jajanan ini terbuat dari singkong, tetapi kini lebih sering diolah dari ketan yang dicampur kelapa parut, gula, garam, vanili, potongan kecil buah nangka, dan daun pandan. Tentu saja bungkus daun pisang yang menyelimuti jajanan ini tidak hanya memanjakan lidah kalian saja, tetapi juga mata kalian.
Bubur kampiun
Perpaduan sempurna dari bubur sumsum (olahan tepung beras dan santan), kolak ubi, pisang hingga ketan hitam ini akan membuat buka puasa kalian lebih nikmat. Jajanan asal Minangkabau ini diambil dari bahasa Belanda "kampioen" yang berarti pemenang karena penciptanya memenangkan kontes memasak pada tahun 60-an.
Asida
Takjil yang berbentuk bola kecokelatan ini adalah makanan khas berbuka puasa dari Maluku. Rasa manis dan tekstur kenyal Asida dibuat dari campuran terigu dan air serta taburan gula, bubuk kayu manis, kapulaga, dan lelehan mentega.
Wah, menu buka puasa yang beragam ini pasti akan membuat kalian menjadi lapar, kan? Yuk, coba berbagai cita rasa Nusantara untuk buka puasa kalian hari ini!