The pandemic is still one of the main problems in Indonesia. Early this year, Wisma Bahasa has opened face-to-face classes in Yogyakarta and Jakarta by implementing the 5M, including wearing masks, maintaining a safe distance, measuring temperature, disinfecting classrooms and the public periodically (Yogyakarta), and washing hands. Moreover, Wisma Bahasa requires completing the vaccination, including Covid-19 tests with negative results for students and teachers.
In line with the reopening of face-to-face classes, some students visited Yogyakarta to study in Wisma Bahasa. One of the students who visited and took classes in Wisma Bahasa Yogyakarta last week was His Excellency the Ambassador of the Ireland to Indonesia Pádraig Colm Francis. Mr. Francis studied intensively for one week. He studied Indonesian and learned about Indonesian history and culture through field trips.
The Embassy of Ireland to Indonesia has sent two of its top diplomats this year. Previously, Wisma Bahasa had the honour of receiving Mr. Deputy Ambassador Odhran McMahon, who studied Indonesian intensively.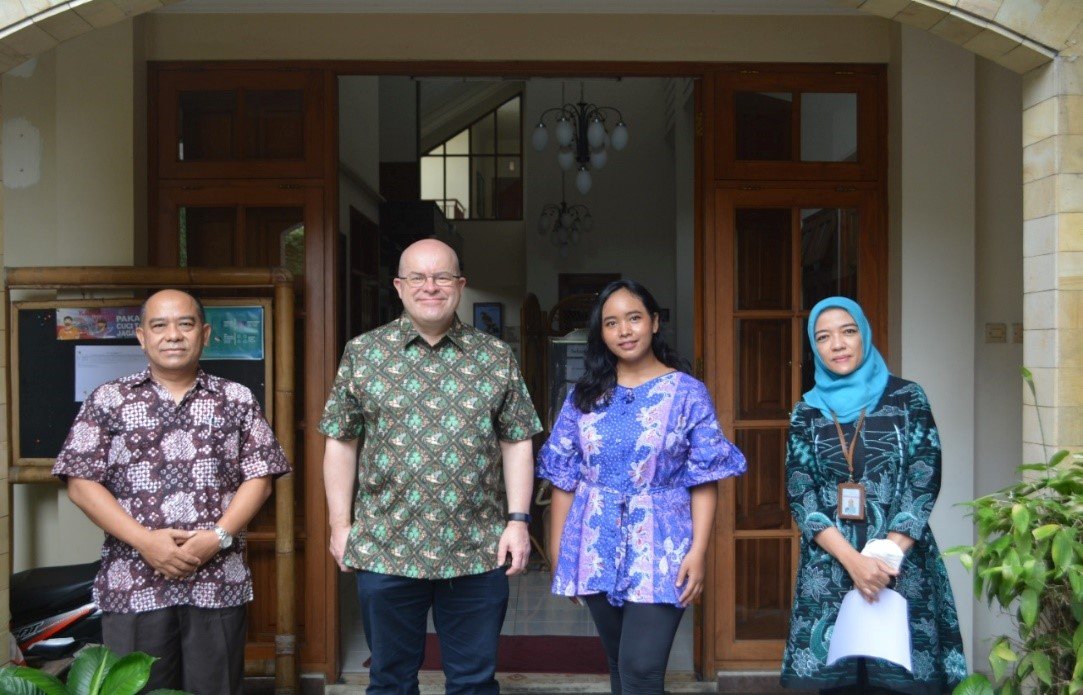 We are delighted that students enjoy studying in Yogyakarta and learn with eagerness. Another thing that adds to the enthusiasm and interest of students apart from learning in class is the opportunity to practice the Indonesian language and get to know the culture and daily life of indigenous Indonesian people through field visits. The field trip program has always been a favorite of our students. There are many field trip destinations to choose from according to the interests and needs of students.
Contact us and make your learning plan in Wisma Bahasa. We look forward to your visit.
See you later!
Sejalan dengan dibukanya kembali kelas tatap muka, Wisma Bahasa menyambut kedatangan beberapa murid yang belajar di Yogyakarta. Walaupun pandemi masih menjadi salah satu masalah utama di Indonesia, Wisma Bahasa telah membuka kelas tatap muka di Yogyakarta dan Jakarta dengan menerapkan protokol kesehatan yang ketat sesuai peraturan pemerintah Indonesia.
Protokol kesehatan yang diterapkan meliputi penggunaan masker, menjaga jarak, pengukuran suhu, disinfeksi ruang kelas dan publik secara berkala (Yogyakarta), mencuci tangan dan persyaratan kelengkapan vaksinasi serta tes Covid-19 dengan hasil negatif untuk murid dan guru.
Salah satu murid yang datang dan belajar di Yogyakarta minggu lalu adalah Yang Mulia Duta Besar Irlandia untuk Indonesia Bapak Padraig Colm Francis. Bapak Padraig belajar intensif selama satu minggu. Beliau belajar bahasa Indonesia dan juga belajar tentang sejarah dan budaya Indonesia melalui kegiatan kunjungan lapangan.
Kedutaan Besar Irlandia untuk Indonesia telah mengirimkan dua orang diplomat utamanya pada tahun ini. Sebelumnya Wisma Bahasa mendapat kehormatan menerima Bapak Wakil Duta Besar Odhran McMahon yang juga belajar bahasa Indonesia secara intensif.
Kami sangat senang murid-murid menikmati masa belajar di Yogyakarta dan belajar dengan bersemangat. Hal lain yang menambah semangat dan ketertarikan murid-murid selain belajar di kelas adalah kesempatan untuk mempraktikkan bahasa Indonesia dan mengenal budaya serta kehidupan sehari-hari masyakarat asli Indonesia melalui Kunjungan Lapangan.
Kunjungan Lapangan atau field trip memang selalu menjadi favorit para murid kami. Di Yogyakarta, ada banyak tujuan Kunjungan Lapangan yang bisa dipilih sesuai minat dan kebutuhan murid. Apakah Anda tertarik untuk mengikuti Kunjungan Lapangan bersama Wisma Bahasa? Segera membuat rencana belajar di Wisma Bahasa, ya! Kami menunggu kedatangan Anda.
Sampai jumpa!