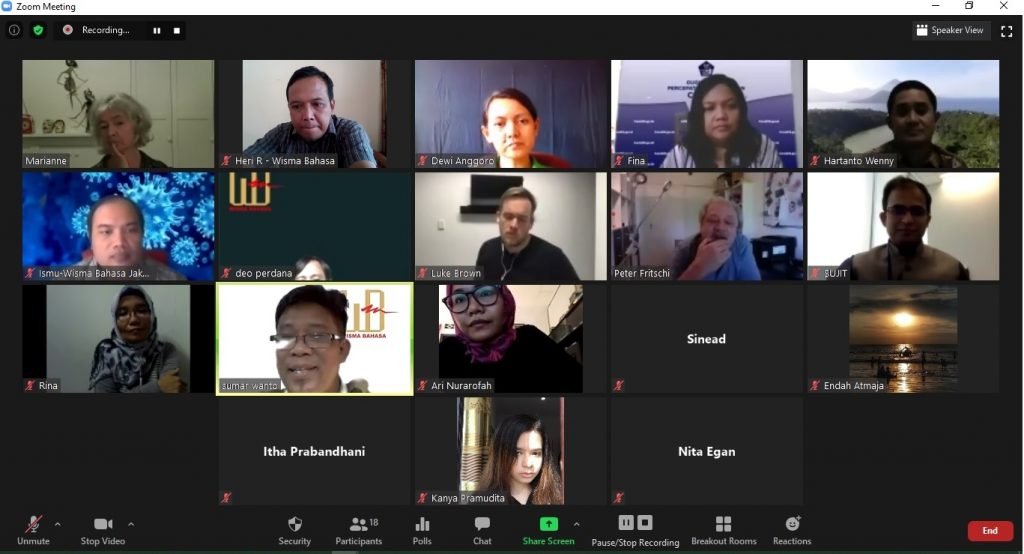 In addition to classroom learning, Wisma Bahasa also holds class discussions so that students can improve their speaking skills in Indonesian language. In this class activity, the teacher will provide a specific topic where each participant can practice speaking their Indonesian language skill in the comfort of their home.
Surely, students who have studied at Wisma Bahasa are no strangers to its occasional class discussion. This activity is a learning tool for students to develop their Indonesian language proficiency particularly their speaking skills. In addition  to enhancing speaking skills, students can also expand their understanding of Indonesia by discussing various topics with teachers and fellow students.
In these difficult pandemic times, Wisma Bahasa continues to conduct class discussion online. It is held every two weeks at adjusted times so that the students living in different places around the world have the same opportunity to participate. Wisma Bahasa  presents a variety of discussion topics about Indonesia led by different teachers in each meeting. This class activity is Wisma Bahasa's commitment to assist the students in improving their Indonesian language  speaking skills.
Selain pembelajaran di kelas, Wisma Bahasa juga melatih kemampuan berbicara dengan menggelar kelas diskusi. Dalam kelas diskusi ini, setiap peserta dapat praktik bicara dengan topik-topik khusus yang telah disediakan oleh guru.
Apa itu kelas diskusi? Pastilah untuk murid-murid yang sudah belajar di Wisma Bahasa tidak asing dengan kegiatan ini. Kelas diskusi adalah sarana pembelajaran bagi murid untuk mempraktikkan bahasa Indonesia agar para murid semakin lancar berbicara bahasa Indonesia. Selain untuk praktik berbicara, di kelas diskusi ini murid dapat menambah wawasan tentang Indonesia dengan membahas berbagai topik bersama guru dan murid-murid lainnya.
Selama masa pandemi ini, Wisma Bahasa tetap menghadirkan kelas diskusi secara daring. Kelas diskusi diadakan setiap 2 minggu sekali dengan waktu yang berbeda-beda agar murid-murid Wisma Bahasa yang tersebar di seluruh dunia dapat turut serta di dalam kelas diskusi ini. Diskusi ini menghadirkan topik yang bervariasi dan diampu oleh guru guru Wisma Bahasa secara bergantian. Kegiatan yang bisa diikuti secara gratis ini adalah salah satu bentuk komitmen Wisma Bahasa untuk membantu murid-murid berlatih bicara dalam bahasa Indonesia lebih lancar. Apakah Anda rindu dengan suasana diskusi bersama guru Wisma Bahasa?